Michael Casparino, Chair of the 2013 Wethersfield Dollars for Scholars Golf Outing, welcomed over 100 players on August 12, 2013.  For the 16th straight year, our outing was co-sponsored by Wethersfield Country Club, Wethersfield, Connecticut.  It was a beautiful day and filled with wonderful people who feel the same way Wethersfield Dollars for Scholars does:  helping students receive financial support with their post secondary education is important!
The day began with registration and lunch and played as a full scramble format.  Raffle prizes and a silent tea cup auction during the dinner also helped raise over  $24,000 !
This year, with mixed emotions, we dedicated our Golf Outing to the memory of Dr. Philip Sehl, a co-founder of Dollars for Scholars in Wethersfield.  Dr. Sehl recently passed away and was remembered in a speech by his daughter, Deborah Coons.  Her husband, Phil Coons, and Dr. Sehl's wife, Floydene also joined us for golf and dinner.
We gratefully acknowledge the following people for their countless hours and hard work to put this wonderful tournament together:
Michael Casperino -Chairperson & Master of Ceremonies
 
 
Bill Quirk - Co-Chair
Tim Tuell - Co-Chair
Audrey Saharek
Lori Willin
Geri Drake
Priscilla Kokinis
Del Farrelly
Laura Bloomquist
Gina Cusano
Mary Clare Quirk
Rico & Ellen Santoro
Denise Fote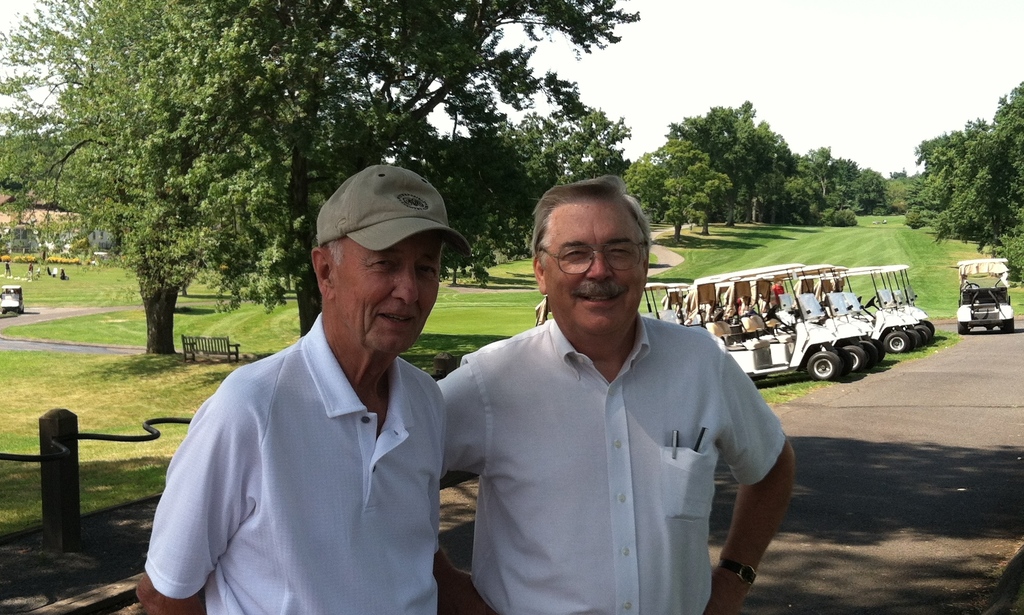 Co-Chairs Bill Quirk and Tim Tuell
Don Fote, Kevin Harding & Chris Fote
Carts and golfers ready to go!
Dinner and Awards followed a spectacular round!
We would also like to acknowledge the following for their generous contributions to our tournament:
| | |
| --- | --- |
| People's United Bank | Aborio Corporation |
| Farmington Bank | Barry, Harvey & Later PC |
| Kelly Freezer | Paul & Gina Bocciarelli |
| Hedco, Inc. | Burger King-New King Inc. |
| Panda Home Health Care | Carbone's Restaurant |
| Village Pizza | Church of The Incarnation |
| General Paving & Const. Co | Cross Automotive |
| Mark Trahan Family | Double A Veterinary Hospital |
| Edigio Assante Wealth Mgt. | Dunkin Donuts |
| Dutch Point Credit Union | Farley-Sullivan Funeral Home |
| Scott & Kathy Harris | Hallisey & D'Agostino LLP |
| International Plating Technology | Lamore's Gulf Service |
| May, Bonee & Walsh | Pomeranz, Drayton & Stabnick |
| PROSHRED Security | Basilios Rozanitis CPA |
| Shop-Rite Hardware & Paint | Subway of Wethersfield |
| Orren & Helena Tench | Thomsen Family Dentistry |
| Timothy Tuell CPA | Town Fair Tire |
| West Side Market | Gunn's Automotive Services |
| New Britain Candy Company | John & Darlene Oblak |
| Tom Landers | Staples |
| Neil Walsh Goldsmith & Gallery | George Kokinis |
| Interstate Foresty Services | Roger Gelfenbein |
| Bill Quirk | Big Y Supermarket |
| Blades Salon | Bob's Farm Market |
| Buy Rite Liquors | City Fish Market |
| Chimirri's Pastry Shop | D'Esopo Funeral Chapel |
| Ficara's Hair Salon | First & Last Tavern |
| Heart of the Country | Modern Tire |
| Omar Coffee | Premier Cleaners |
| Sterling Jewelers | Stew Leonard's |
| Wooden Toy | Peter & Priscilla Kokinis |
| New Britain Rock Cats | Pure Coffee International |
| Hartford Distributors | Wethersfield Country Club |